Laura Henderson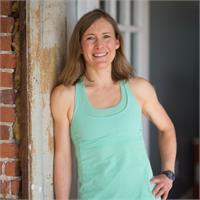 From Community Yoga to the Detox Bootcamp workshops, Laura's classes are challenging, mindful, dynamic and organically soulful experiences of vinyasa for all levels. Believing the best teachers always remain curious students, Laura continues to explore and evolve her yoga life by attending workshops and trainings. Her continued journey as a student of yoga and Pilates keeps her classes fresh, and enables her to create sequencing that offers students new perspectives from which to understand a pose, their practice, and themselves. Laura received her Pilates mat training with the Physical Mind Institute in 2003, her 200-hour Yoga Alliance Registered training in 2006, attended Pilates reformer training with Balanced Body Institute in 2006, and completed prenatal yoga training in 2007. You can find her "beyond the mat" approach to yoga in all of her regularly scheduled Invoke classes, and in her soul-challenging Detox Bootcamp workshops.
Laura Henderson instructs the following:
Vinyasa Yoga - Level 2/3 - This class is recommended for the intermediate to advanced practitioner and will include more challenging postures including inversions. Students flow through the rigorous class working towards more challenging postures. Teachers will offer progressive pose construction to peak poses to accommodate students at different levels and allow students to progress toward more advanced poses in their practice.




HEATED Vinyasa Yoga - Level 2 - Join Invoke for an invigorating and detoxifying heated vinyasa class. Be prepared to sweat it all out during our athletic flow in the heated and humidified studio. Bring a towel and be sure to hydrate yourself before and after class! This is an open to all levels class.




Vinyasa Yoga - Level 2 - All levels are welcome. The instructor will present different options for the less experienced student and for the advanced yogi. Vinyasa, a style of yoga, is a flowing sequence of asanas that ties movement with breath. Invoke's dynamic vinyasa focuses on the flow, strength and power of the practice.