Laura Henderson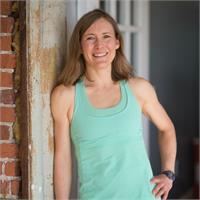 Laura seeks to honor the union of yoga on and off the mat in her classes. Her classes are fun, thoughtful, and her flows organize progressive elements and pose sequences toward a peak pose. Laura offers a space that is open and instructional, encouraging students to explore the balance between honoring where they are and challenging themselves. She hopes students leave class with a smile on their face, and a sense that somehow the time on their mat leaves them stronger and more open to face all the beauty, magic, and challenges that life holds. Laura's first encounter with yoga was in a philosophy book, and it changed her life. Several years later in 2004, yoga became a life-saving practice when Laura lost her brother. Laura took to her mat daily to breathe and be in her body as a respite from her spinning mind and grieving heart. Exploring and building strength in her physical body helped her find deeper strength to live with and through grief. Learning to do poses she never imagined she could, gave her the courage to start her own non-profit to contribute to the change she wants to see in the world (Growing Places Indy, 2009). Still daily, her practice helps her cultivate strength, flexibility, adaptability, forgiveness, compassion, and a comfort with failure and discomfort that empower her continued growth as a mother, spouse, family, friend, co-worker, teacher, human. Laura's own experiences of the power of yoga in her life are what drive her desire and commitment to teach. Laura completed her 200-hour YTT in vinyasa yoga in 2006, and completed prenatal teacher training in 2007. She has been teaching at Invoke since January 2007. Laura has also done numerous trainings with Off the Mat, Into the World, Embody Love Movement, Y12SR, and CTZNWELL. She continues to explore different styles, teachers, workshops, trainings, books and more, believing that a teacher must always remain a curious and committed student.
Laura Henderson instructs the following:
Vinyasa Yoga - Level 2/3 - Students are invited to take the energy reserved in the non-heated environment of this level 2/3 class to explore more advanced postures. Designed for students looking to learn elements and progressions from which peak poses become accessible, including arm balances, inversions, binds, hips and shoulder opening, and endurance building holds. Within a rigorous flow, progressive pose construction empowers students at different levels to progress toward more advanced poses in the context of their own practice.




Vinyasa Yoga EXPRESS - Level 1/2 - THIS CLASS IS THE SAME FORMAT AS THE REGULAR 1/2 CLASS BUT 55MIN IN LENGTH. This class is for all levels regardless of how long you've been practicing as you can never know the basics too well. Whether you are a seasoned and dedicated yogi, a beginner who is brand new or an advanced beginner who has been coming to basics classes but does not feel quite confident enough to move up to an All Levels format, this class offers multiple benefits for all. Although this class will move with a flow it will be a slower flow so the student has ample time to move into and out of the pose effectively keeping the stability that is often lost when the flow becomes too fast. You will enjoy a great selection of poses with fun and interesting sequences, multiple alignment cues but also extended periods of silence once in the pose to allow reconnection with your breath, body and spirit. Come to breathe, move, open and smile. "The deeper you go, the higher you fly so come on!" John Lennon




Vinyasa Yoga - Level 2 - All levels are welcome. The instructor will present different options for the less experienced student and for the advanced yogi. Vinyasa, a style of yoga, is a flowing sequence of asanas that ties movement with breath. Invoke's dynamic vinyasa focuses on the flow, strength and power of the practice.




Vinyasa Yoga EXPRESS - Level 2 - Join us for a 55 minute (NON-heated) EXPRESS class. All levels are welcome. The instructor will present different options for the less experienced student and for the advanced yogi.