Glenna Nall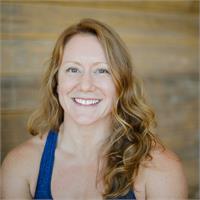 Glenna loves the mind-body connection inherent in yoga and Pilates systems of exercise. As an college athlete and still enjoying a bit of competition, Pilates and yoga offer a way to recover and build strength without stressing the body. Glenna comprehensively certified by Peak Pilates. Not stopping there, Glenna completed the Discover*Move*Inspire Masters in Pilates Teaching program (18 month program). The DMI program including a weekend with first generation teacher Lolita SanMiguel, providing additional insight into the history of Pilates. Glenna is also a registered yoga instruction (200 hour), completing her training with Ahna Hoke and Chuck Crosby at Invoke Yoga & Pilates. Glenna has experience working with pre/post natal clients, individuals with osteoporosis/osteopenia, spinal issues (scoliosis, disc issues), and individuals recovering from breast cancer surgery.
Glenna Nall instructs the following:
Prerequisite: At least one private reformer session or past reformer experience.

Pilates reformers are specialized piece of equipment that allows students to work out using spring resistance. This conditioning method develops core abdominal and back strength by working from the inside out, helping you build optimal strength, flexibility, endurance and posture, without building bulk or stressing your joints.

This class is open to all levels. Maximum of 4 students per class.

Prerequisite: At least one private reformer session or past reformer experience.




Pilates fundamentals covers the traditional pilates exercises developed by Joseph Pilates. The class is designed for all levels with building blocks offered to those new to pilates. Experienced students will be challenged with advanced variations of exercises. All students will benefit from the focus on alignment and postural cues. The class utlizes pilates rings, therabands, and handweights for some exercises.