Stevie Frank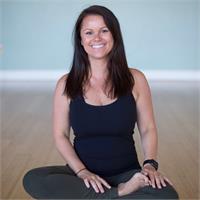 Stevie found her mat in the not-so-zen atmosphere of a major workout facility in her sophomore year of college. She tagged along with a friend to Erin Morgan's class and instantly fell in love with everything yoga had to offer her: The ability to get away from the everyday clutter and linking of the body to breathe. After 5 years of practicing at Invoke she decided to take the 200 hour Teacher Training and venture into the next step of life as a yogi. She teaches classes with the intention of giving her students the ability to disconnect from the daily clatter and connect to the body through movement and beat driven tunes.
Stevie Frank instructs the following:
Join Invoke for an invigorating and detoxifying heated vinyasa class. Be prepared to sweat it all out during our athletic flow in the heated and humidified studio. Bring a towel and be sure to hydrate yourself before and after class! An invoke Community class is same amazing Invoke class at a rate that is accessible and affordable to the entire yoga & pilates community. Please feel free to use a regular package or pay the low $10 rate.