Lindsey Springer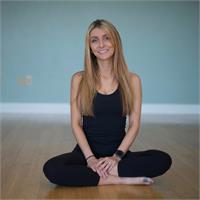 Lindsey began doing Mat Pilates as a regular way to break up her 9-5 work day in 2007. Noticing a change in her energy level and body within a matter of weeks, she was forever hooked on Pilates from that point on. She started teaching in 2008 and soon left the corporate world altogether to pursue a challenging career in fitness instruction, including Barre, Pilates Equipment and Mat Pilates.
Trained through Balanced Bodies, she learned that Pilates is for every body type. She safely challenges all her clients' to meet their goals and increase their flexibility, strength and balance. Her passion for Pilates inspired her to further her education and returned to college to study kinesiology, the study of body mechanics. She dreams of one day traveling the world to share her knowledge of Pilates and kinesiology, and to train other aspiring Pilates instructors.
Lindsey Springer instructs the following:
Prerequisite: At least one private reformer session or past reformer experience.

Pilates reformers are specialized piece of equipment that allows students to work out using spring resistance. This conditioning method develops core abdominal and back strength by working from the inside out, helping you build optimal strength, flexibility, endurance and posture, without building bulk or stressing your joints.

This class is open to all levels. Maximum of 4 students per class.

Prerequisite: At least one private reformer session or past reformer experience.




Bar Effect class - Level 2 - Bar Effect™ features all the core toning elements of pilates and yoga with the booty and thigh sculpting effects of ballet barre work. We will incorporate lengthening and strengthening ballet barre and yoga moves with approximately 25 minutes of abdominal mat work. Your regular class package can be used to attend this class! No previous experience required.




Pilates Mat - Level 1/2 - Our group pilates mat classes strengthen your core strength, the key to good posture and a healthy back. We combine traditional pilates mat exercises with other fun strength and flexibility moves to focus on firming and toning your body. Open to all levels.




Yin yoga is accessible to anyone, including beginners. Poses, held between 3 and 5 minutes, are done mostly on the floor and target the deep connective tissue concentrated in the major joints of the body. Yin yoga helps rejuvenate connective tissues, improve circulation, and bring joints back to their natural range of motion.

The longer duration within each pose provides the opportunity to slow down and bring awareness to the current capabilities of our bodies. Through mindfulness practices, we are able to focus inward more clearly and open ourselves to fully embody the present moment.

Yin is a wonderful compliment practice to our more vigorous activities such as vinyasa, running, cycling or other athletic pursuits. Maintaining poses for several minutes can have an intense effect on the tight, sore and sometimes inflamed tissues that endurance athletes often experience.

Please note: Yin is NOT restorative yoga. Due to the long, slow, deep holds of the Yin poses, this practice can be intense. Please discuss any injuries you have with your instructor prior to class.