Francesca Jarosz Brady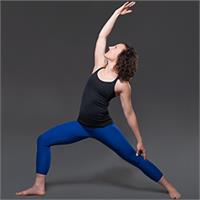 In an attempt to get buff the summer before her freshman year of college, Francesca Jarosz began doing her mom's Pilates DVD after daily runs. She liked the physical challenge of Pilates and kept up with it as a student at Northwestern University. Shortly after moving to Indianapolis in 2007, she discovered Invoke and began taking Pilates classes there. Then, on a cold January day in 2012, she decided to try a hot yoga class at Invoke to mix things up. She's been hooked ever since.
She began attending yoga classes regularly, went on a yoga retreat that fall and completed her teacher certification through Invoke's 200-hour program in 2013.
Francesca finds practicing yoga, in combination with distance running, the perfect blend for her personal fitness, and she believes everyone can find benefits in yoga -- whether it's physical strength, greater discipline or mental peace. In addition to teaching at Invoke, Francesca volunteers to teach a monthly class to parents, students and staff at KIPP Indianapolis, a public charter school.
Francesca Jarosz Brady is currently not instructing any classes.