Abby Hall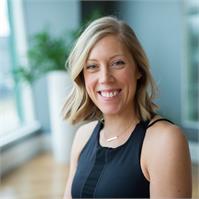 When Abby attended her first Pilates class after graduating college and moving to Indianapolis it was love at first sight! A perfect change of pace from her usual gym and running routine, after a few classes she was hooked. She loved how she felt after each and every class, and the noticeable changes in muscle definition and tone were not bad either! While gearing up for her wedding and starting a new job, a co-worker introduced her to Invoke Studio, and Abby's heart was stolen once more by their Bar Effect™ classes. Pushing her body at each class felt great, but the evident increase in strength and endurance left her wanting more. Wishing to inspire this enthusiasm of Pilates and Bar Effect™ into others, Abby jumped at the idea of becoming a teacher! Learning more with each class and through personal practice, she loves up-beat, high energy classes that will really push your body and make you feel the burn! Abby recently trained with Balanced Body and is also a Registered Dietitian. She truly believes in the phrase "everything in moderation…except for planks, which you can never do enough!"
Abby Hall instructs the following:
Bar Effect class - Level 2 - Bar Effect™ features all the core toning elements of pilates and yoga with the booty and thigh sculpting effects of ballet barre work. We will incorporate lengthening and strengthening ballet barre and yoga moves with approximately 25 minutes of abdominal mat work. Your regular class package can be used to attend this class! No previous experience required.




Pilates fundamentals covers the traditional pilates exercises developed by Joseph Pilates. The class is designed for all levels with building blocks offered to those new to pilates. Experienced students will be challenged with advanced variations of exercises. All students will benefit from the focus on alignment and postural cues. The class utlizes pilates rings, therabands, and handweights for some exercises.