Amanda Zehr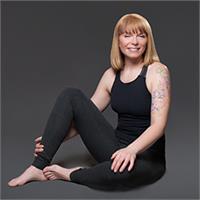 Amanda was involved in all kinds of sports and running growing up. After moving to Chicago at 22, she enrolled in the 500 hour program at the National Personal Training Institute and received her certification through NASM. While weight training and running were of interest, Amanda felt there was still something she was missing in her regime. After moving to Indianapolis, she started doing yoga as a supplement to running. But after only a few weeks, running became her supplement to yoga. It was clear that yoga was what was missing. Amanda graduated from the 200 hour YTT program through Invoke Studio in the summer of 2015. She creates slower, but athletic-style flows accessible to all levels.
Amanda Zehr instructs the following:
Vinyasa Yoga - Level 1/2 - This is a basic or slower paced class that is perfect for beginners or those that prefer a slow flow. This class is for all levels regardless of how long you've been practicing as you can never know the basics too well. Whether you are a seasoned and dedicated yogi, a beginner who is brand new or an advanced beginner who has been coming to basics classes but does not feel quite confident enough to move up to an All Levels format, this class offers multiple benefits for all. Although this class will move with a flow it will be a slower flow so the student has ample time to move into and out of the pose effectively keeping the stability that is often lost when the flow becomes too fast. You will enjoy a great selection of poses with fun and interesting sequences, multiple alignment cues but also extended periods of silence once in the pose to allow reconnection with your breath, body and spirit. Come to breathe, move, open and smile.




HEATED Vinyasa Yoga - Level 2 - Join Invoke for an invigorating and detoxifying heated vinyasa class. Be prepared to sweat it all out during our athletic flow in the heated and humidified studio. Bring a towel and be sure to hydrate yourself before and after class! This is an open to all levels class.