Elizabeth Heidari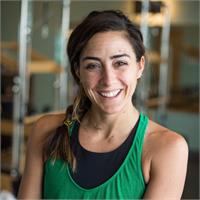 Elizabeth Heidari is a former professional dancer and choreographer recently relocated from NYC. She currently holds certifications in Pilates mat under LindaFit, hybrid apparatus training on the Flex Fitformer, and a Spin certification through Madd Dogg. She worked for some of the top boutique fitness studios in Manhattan, including CYC fitness, Flex Studios, Ludlow fitness and Broadway Dance Center, before heading down to the Hoosier state. Her body of work as a dancer consists of performances for SNL, VH1, Xbox, Roberto Cavalli, Madonna, Nicki Minaj, MIA, Florence + The Machine, and many more. Despite the move, she continues to work in a creative capacity for Heineken USA and continues to perform with The Knocks.
Elizabeth teaches a fast-paced, fun, challenging and musically-driven class with Pilates as it's back-bone. The hour is dedicated to safe body alignment, intention and it's connection to the work, working in a functional range of motion, and finding the inner-power during fatigue to come out stronger on the other side.
Elizabeth Heidari instructs the following:
Pilates mat with a twist! Form-focused functional movement, expertly cued classic Pilates mat exercises, endurance-building intervals and detoxifying infrared heat all in one sweaty 60 minute session. Core HEAT is a focused, detailed and challenging stream of exercises thoughtfully programmed to improve strength, balance, coordination, stamina and the mind-body connection. Core HEAT is the slower, low-impact compliment to the quick-paced and explosive core HIIT.

The room is heated between 80 and 85 degrees and the class is comprised of 6 sections: warmup, 4 sections of interval work completed in circuits and a generous cool down.