Bailey Croke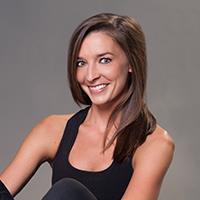 Developing a passion for ballet at a young age, movement has always been a fundamental part of Bailey's life. She spent many years studying different forms of dance and participating in intensives, workshops, performances and competitions to further her training. After graduating from Indiana University and entering the working world, Bailey quickly fell in love pilates, yoga, and barre classes to keep up the activity and discipline that she had with dance. In 2013, she took a step back into the dance world and discovered a surprising new passion in teaching. Wanting to explore that further, Bailey decided to bring her love for pilates and teaching together and completed the Peak Pilates Certification in June 2015. As an enthusiastic Pilates instructor, Bailey loves to teach a challenging and revitalizing class to help students challenge their core, balance, flexibility and strength to improve overall movement quality, mind/body connection and physical vitality.
Bailey Croke instructs the following:
Prerequisite: At least one private reformer session or past reformer experience.

Pilates reformers are specialized piece of equipment that allows students to work out using spring resistance. This conditioning method develops core abdominal and back strength by working from the inside out, helping you build optimal strength, flexibility, endurance and posture, without building bulk or stressing your joints.

This class is open to all levels. Maximum of 4 students per class.

Prerequisite: At least one private reformer session or past reformer experience.




Core HIIT (a core focused class) - Level 2/3 - A core-focused, circuit workout based off of Pilates mat principles and kicked up a notch with the addition of short bursts of HIIT (high intensity interval training). This class is meant to strengthen and lengthen the muscles, increase stamina, and reinforce the mind-body connection through quick transitions. A great way to take your yoga

and/or Pilates practice to the next level.

This open level class is tailored to challenge a variety of fitness levels, so all are welcome! No shoes required. Please bring your mat. You can use your regular package to attend this class!




Pilates fundamentals covers the traditional pilates exercises developed by Joseph Pilates. The class is designed for all levels with building blocks offered to those new to pilates. Experienced students will be challenged with advanced variations of exercises. All students will benefit from the focus on alignment and postural cues. The class utlizes pilates rings, therabands, and handweights for some exercises.




Pilates mat with a twist! Form-focused functional movement, expertly cued classic Pilates mat exercises, endurance-building intervals and detoxifying infrared heat all in one sweaty 60 minute session. Core HEAT is a focused, detailed and challenging stream of exercises thoughtfully programmed to improve strength, balance, coordination, stamina and the mind-body connection. Core HEAT is the slower, low-impact compliment to the quick-paced and explosive core HIIT.

The room is heated between 80 and 85 degrees and the class is comprised of 6 sections: warmup, 4 sections of interval work completed in circuits and a generous cool down.