Danielle Vetter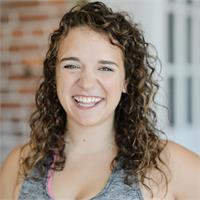 Danielle started practicing yoga to compliment distance running in 2009. She loved the peace, stillness, and whole-body relaxation yoga brought. Danielle completed her 200 Hour Yoga Training in Indianapolis in January of 2015. Her classes are upbeat, athletic, and connect breath work with a strong physical practice. She hopes her classes will offer students a chance to find strength, a deeper understanding of their bodies, and balance and peace in their lives.
Off the mat, you can find Danielle hiking, boxing, or rocking out to a concert at White River State Park. Danielle holds a BS and MPA from Indiana University (Go Hoosiers).
Danielle Vetter instructs the following:
HEATED Vinyasa Yoga - Level 2 - Join Invoke for an invigorating and detoxifying heated vinyasa class. Be prepared to sweat it all out during our athletic flow in the heated and humidified studio. Bring a towel and be sure to hydrate yourself before and after class! This is an open to all levels class.




Vinyasa Yoga - Level 2 - All levels are welcome. The instructor will present different options for the less experienced student and for the advanced yogi. Vinyasa, a style of yoga, is a flowing sequence of asanas that ties movement with breath. Invoke's dynamic vinyasa focuses on the flow, strength and power of the practice.