Annie Marshall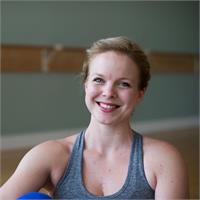 Annie first joined the Invoke community as a prenatal yoga student in 2010. After the birth of her daughter, she continued to deepen her yoga practice as well as expand her fitness routine to include Pilates and Bar Effect. Her love for barre workouts in particular led her to complete the Bar Effect teacher training and receive her certification in 2016. She continues to enjoy a strong yoga practice and a variety of Pilates workouts as a fun way to manage the stress of daily life and her full time career. She enjoys offering challenging upbeat classes and loves watching her students grow stronger with each session.
Annie Marshall instructs the following:
Bar Effect class - Level 2 - Bar Effect™ features all the core toning elements of pilates and yoga with the booty and thigh sculpting effects of ballet barre work. We will incorporate lengthening and strengthening ballet barre and yoga moves with approximately 25 minutes of abdominal mat work. Your regular class package can be used to attend this class! No previous experience required.