Betsey Clark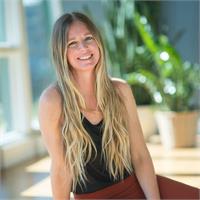 After making a move to Indianapolis in 2016, Betsey started attending Invoke to get her yoga fix and it quickly became her second home. Within a few months she found herself in a Bar Effect class and was instantly hooked. Soon after, adding Pilates classes as well, she found what had been missing from her prior fitness routine and failed gym memberships.
She loved that by attending the Bar Effect classes she quickly noticed changes in areas of her body and muscle groups that she had failed to target with past workouts; all while, actually enjoying the challenges and exercises presented in each class, not counting down the minutes until it was over. Wanting to share this new-found love with others, Betsey decided to take the journey a step further and completed her Bar Effect Certification in the spring of 2017.
Betsey Clark instructs the following:
Bar Effect class - Level 2 - Bar Effect™ features all the core toning elements of pilates and yoga with the booty and thigh sculpting effects of ballet barre work. We will incorporate lengthening and strengthening ballet barre and yoga moves with approximately 25 minutes of abdominal mat work. Your regular class package can be used to attend this class! No previous experience required.