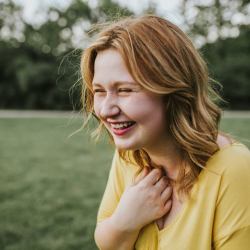 Blog by Delaney Francis (Student, Fur Mama, Invoke Enthusiast, Future Pilates Instructor, and Blogger/Owner of Del's Diary)
My name is Delaney, and I love blogging and love talking about Invoke; now I have the pleasure of blogging about Invoke.
I started my yoga and pilates journey ten months ago. If you knew me, then you would know that the past ten months have been the best ten months of my entire life. Invoke is more than a yoga studio to me; it is a second home.
Every single time I walk into Invoke Studio or Invoke Wellness Center I feel my Zen meter go up. I feel calm, cool, and collected. I don't even need to be on my mat or on a reformer to feel this way. Just stepping into Invoke is as cathartic as walking into my grandma's house during the holidays.
As a student and a self-certified "over thinker," I try my best to keep a certain level of Zen on a daily basis. Coming to the studio helps me balance my mind, body, and spirit connection. It is easy to get caught up in the chaos and clutter of college, which is why coming to Invoke is so crucial.
After a class at Invoke I either feel a) full of gratitude b) as cool as a cucumber c) like Beyonce or d) all of the above. I have gained so much from coming to Invoke over the past year and want to share with you the most meaningful moments so far.
1. A loving relationship with my mind AND body
2. Getting to wear yoga pants and flip flops 24/7
3. A community of awesome yogis all dedicated to bettering themselves
4. Countless beauty products, headbands, and graphic tee's
5. A bigger smile, louder laugh, and a contagious amount of confidence
When I am not taking a class or working the front desk at Invoke, you can find me blogging for Del's Diary, eating Chipotle, or hanging out with my dog, Chai.